Metaverse, NFT & Gaming Report — April Edition 2023
Monthly comprehensive report that summarizes all major trends, developments and funding across the Metaverse, NFT and Web3 Gaming space
1. NFT Overview
April was a relatively moderate month for the NFT markets in general. NFT market volumes across major blockchains stood at $590 million (excluding wash trading), down 20% from the previous month. Meanwhile, floor prices of most bluechip NFT projects were down by an average of 13.2%, as the price of Ethereum rose in anticipation and post Shanghai upgrade.
NFT volumes across most major blockchains had dipped significantly, with volumes on Ethereum dropping off more than 25%. April also marked the lowest number of unique NFT traders on Ethereum since December 2021, as unique traders have been reducing over the past year. However, not everything is doom and gloom for the NFT markets. Polygon and Arbitrum significantly increased their NFT trading volumes over the month, growing 28.7% and 79% respectively excluding wash trading. Polygons NFT volumes grew with the release of new Trump trading card NFTs and the Yoots migration to the chain, while Arbitrum saw increased volumes likely due to the Arbitrum Airdrop to ecosystem projects. Regardless, it is impressive to see smaller chains experiencing more volumes and activity.
On the marketplaces end, Opensea finally struck back at Blur after losing significant market share over the past few months. Opensea unveiled Opensea Pro, an NFT marketplace aggregator tailored for NFT traders. As many might be aware, Opensea acquired Gem, an NFT aggregator in April of last year. Gem has now rebranded itself to Opensea Pro with features like instant sales, cross-marketplace data and advanced orders. For a limited period, the platform will be enabling 0 trading fees along with a rewards system like Blur but without any token airdrops. Opensea is going a different way by featuring NFTs as rewards for its community.
Looking closer on-chain, we find that Opensea Pro has seen good traction from the community so far and has been taking up a large portion of NFT aggregation volume from Blur. In just a month, NFT aggregation volume dominance of blur has dropped from 82.7% to 46.6%, while Opensea Pro's dominance has grown to 53.4%, which is impressive.
Another major winner in the NFT sector was Bitcoin Ordinals, which continued its rise in April. Nearly 2 million ordinals were inscribed in April, that's a 4 times increase in inscription numbers from March. The significant rise has been largely attributed to the introduction of BRC-20 token minting using the ordinals protocol. In terms of funding, the NFT sector attracted $30.6 million in funding, down 21.5% MoM. Largest funding over the month went to Hug and Tonic, both raising $5 million in funding.
NFT Recent Developments
Monthly NFT Stats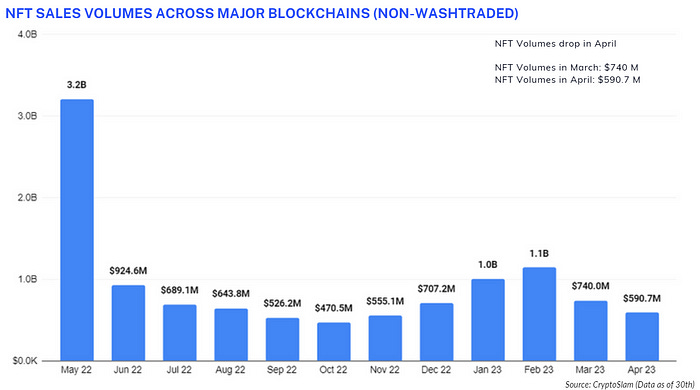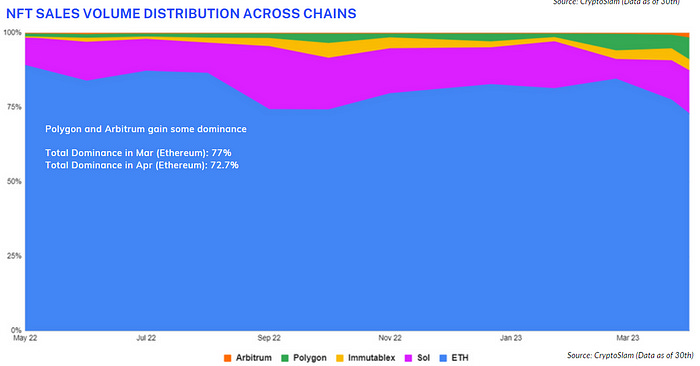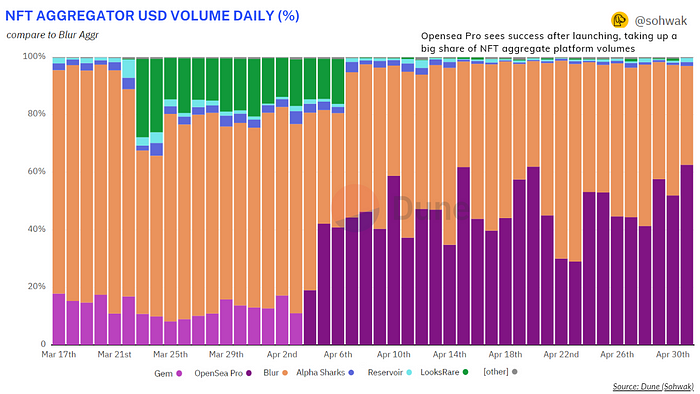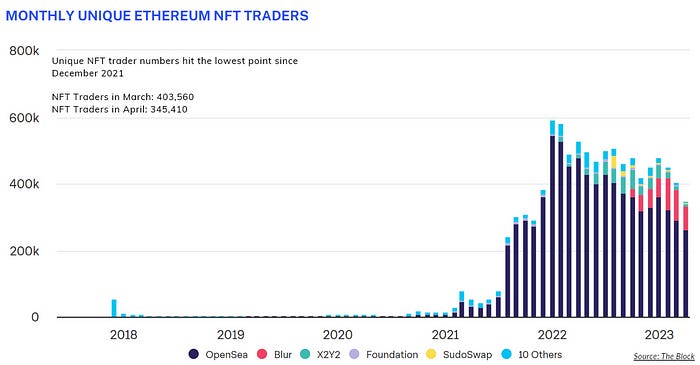 NFT Funding
---
2. Web3 Gaming Overview
The Web3 gaming sector experienced modest growth in April, although it was not as eventful as the last few months where we saw significant developments. The gaming daily UAW decreased 11% in April to reach a total of 656,502 average gaming unique wallet interactions over the month. This decline marks a continuation of gradual downtrend in UAW seen since late last year.
The gaming sector was uplifted by the Square Enix and Elixir partnership in April. Best known for RPG franchises like Final Fantasy, Dragon Quest and Kingdom Hearts, Square Enix has been rapidly expanding its presence in the blockchain gaming space. This time it partnered with web3 game launcher, Elixer to help spearhead a push to bring Web2 gamers into Web3 domain. Elixer has over 50 web3 games of varying genres and will be promoting blockchain games to traditional games who are fans of other Square Enix Projects. While this development might appear minor at first glance, it carries significant implications for the industry. Partnerships like these have massive potential to bridge the gap between siloed Web3 games and actual web2 gamers, so it is exciting to see Square Enix making these moves.
In addition to the Square Enix news, there were 2 other notable positive developments from within the industry last month. Merit Circle, one of the largest gaming guilds in the space with over $97 million in treasure, announced the creation of its own gaming focused chain. Built using Avalanche subnets, the custom gaming network will be home to multiple games and products. The DAO announced 4 initial game titles along with an AMM and an NFT marketplace on the chain. This is encouraging as Merit Circle has established itself as one of the most promising players in the web3 gaming space and it is expanding its horizons to become the go-to chain for games.
The second major news was the integration of Web3 gaming into Cardano. The chain has been experiencing large NFT trading volumes in recent months, and through a new cross-chain network integration, users of Cardano and other networks can play on-chain games. The effort is possible with Paima, a layer 2 solution that is also able to migrate any games built on other networks to Cardano.
On the funding end, the gaming sector saw a slight decline in funding amounts compared to the previous month. We saw a funding inflow of $76.5 million. The largest funding amounts went to Mayhem Studios and Karate Combat, drawing in $20 million and $18 million, respectively. April also saw 2 major positive developments as Razer launched its Web3 incubator and Bitkraft raised its second token fund. Both of these news are great for web3 gaming startups and positive to see for the space.Gaming Recent Developments
Monthly Gaming Stats

Gaming Funding
---
3. Metaverse Overview
The Metaverse sector demonstrated a decent performance over the course of April. Monthly Metaverse parcel sales volumes stood at $28 million, while 8447 metaverse parcels were sold over the month (excluding Otherside's new collections). We experienced a list of positive metaverse developments internally in the space (Yuga Labs Decoupling, vessel claim and Sandbox Land update) and externally (Krafton and Naver Z partnership) in April.
The space was electrified by the enormous news from Krafton, the creators of PUBG Battlegrounds announcing their efforts towards the developing a new Web3 and NFT project aimed at building a NFT Metaverse Platform. The gaming giant announced a joint venture with Naver Z last year. Naver Z is the subsidiary of South Korean conglomerate Naver which works in 3D avatars, AR and 3D technology; and runs Zepeto, Asia's largest metaverse platform with more than 290 million users worldwide. Naver Z launched a $100 million Metaverse fund early in 2022 and the joint efforts seem to be in line with the plan. According to the announcement, the companies have invested roughly $36.8 Million to develop the platform.
The Metaverse platform will include features such as Create-to-Earn system that allows builders to create and users to purchase work through NFTs and Blockchain. Krafton will develop sandbox tools and blockchains systems while Naver Z will focus on service planning and partnership announcements. The Metaverse will be launching later this year. This will be a big boost for the Metaverse sector, given the experience of Krafton and Naver. The best part of the metaverse product will be the use of web3, NFT and Blockchain technologies.
On the decentralised metaverse front, Sandbox released its quarterly update report along with the land roadmap update. The announcement put forward a slew of major updates to the platform on the Land and creation aspects. There will be more neighborhoods coming every 2 months on Sandbox, and upcoming land sales in industry focused areas like Music Verse and more local community land sales with brands like Adidas. On the Otherside front, the Metaverse opened up Koda decoupling and Vessel claim and revealed more details on the Legends of Mara 2D game.
In terms of funding, Metaverse Funding grew 4.9% from the previous month. The largest funding amounts went to XRSpace and Metagravity, drawing in $25 million and $9.5 million respectively.
Metaverse Recent Developments
Monthly Metaverse Stats
Metaverse Funding
---
---
Disclaimer: DISCLAIMER: Certain information in this POST, including, but not limited to, statements regarding Rising Capital Pte Limited and its associated companies and funds (collectively "RISING CAPITAL" or the "Company") anticipated business or opportunities, may constitute forward looking information (collectively, forward-looking information). Forward-looking information can be identified by the use of terms such as "may," "will," "should," "expect, "anticipate," "project," "estimate," "potential" "intend," "continue" or "believe" (or the negatives) or other similar variations. Because of various risks and uncertainties, actual events or results may differ materially from those reflected or contemplated in such forward-looking information. The forward-looking information in this post is applicable only as of today and RISING CAPITAL undertakes no obligation to update any forward-looking information to reflect events or circumstances after that date or to reflect the occurrence of unanticipated events. NOTHING IN THIS POST OR WEBSITE IS FINANCIAL ADVICE. PLEASE DO YOUR OWN DILIGENCE BEFORE INVESTING.